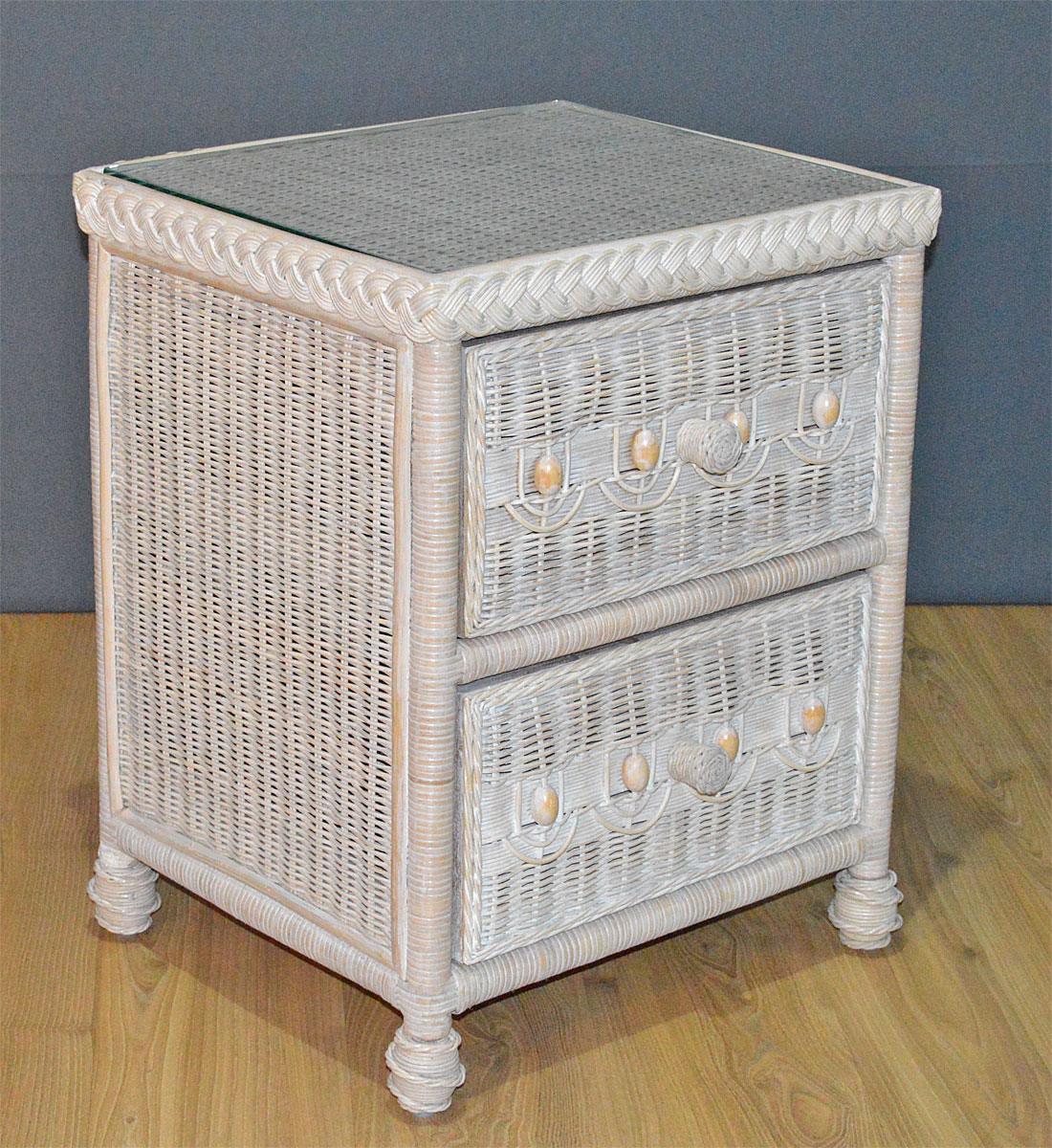 Scroll down to view our Wicker Tables & Night Stands.
Construction & Quality...please look at the first picture, our Diamond Night Table. See how the legs have a rounded look? When you see a rounded look that means the frames are made of rattan poles. You will also see this on our Square Ashley, Sweetheart, Gazebo Tables and Victorian Night Tables. We use very sturdy "broom handle" size rattan poles for the frame and then we wrap & weave smaller textures of rattan over them. We use larger, thicker rattan poles than you will normally see. Now please look at our Traditional, Pavilion & Augusta Night Tables. See how they appear more"squared" off. That is because we use mahoghany wood to make the frames. The wooden frames are all screwed together with tried & true carpentry methods. Then again, the smaller textures of rattan are wrapped, woven & attached over the frames. Wicker is not a material it is a weaving process. Rattan is the material and when it is woven the product is referred to as wicker. We try to keep our quality 1st rate. Even the smaller pieces of rattan that are woven are cut down are a thicker size then you normally see. Our dressers & headboards are made the same way.
The Drawer Pulls.. each knob has a fitting inside of it that a screw easily goes into. We put the drawer pulls on the inside of the drawers so they are not sticking out & are easily damaged. Just invert them & you are ready to go. There is no assembly required. Everything is properly made at the factory.
Where to use them..the ones with drawers usually go in bedrooms, but we have tables without drawers that our customers use everywhere.
Glass tops....we always reccommend glass tops as they provide a flat surface & protect the tops. Most people place things on the tops and eventually you can nick or scratch them. Also, glass tops prevent the dust from gathering in the wicker weave on top. As consumers that is a big issue for us. A squirt of Windex & a piece of paper towel & no more dust.
Shipping..we offer free Fed Ex shipping within the 48 states. If you buy these with dressers & headboards then we would ship everything via trucker.